Accurus Biosciences provides a comprehensive suite of services for discovery of therapeutic antibody leads. We are dedicated to helping our clients identify high affinity therapeutic antibodies with desired functions in a competitive timeline.


We help our customers design the best form of antigens for animal immunization, including protein, whole cell, and DNA antigens. We have established a highly efficient electrofusion process for hybridoma generation and other robust technology platforms to streamline our antibody discovery program. We work closely with our customers to integrate effective screening strategies, including ELISA, ligand-receptor binding assays, and cell-based assays in the screening process to identify high affinity antibodies, blocking antibodies for both protein interactions and biological functions, or agonistic antibodies.


We can provide services as a complete package or services at any stage of the antibody discovery process.
Antigen design and generation from target sequences
Design and production of screening reagents
Immunization using optimal routes and various immunogens (protein, cells, and/or DNA antigens)
Hybridoma fusion and screening by ELISA, FACS, or functional assays
Hybridoma sequencing and chimeric antibody production
Antibody affinity measurement by Biacore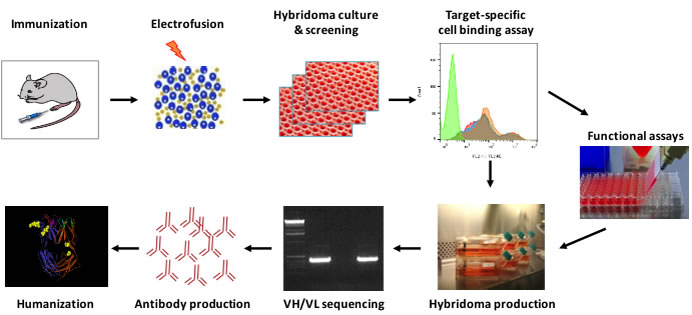 Therapeutic Antibody Discovery Services
Sample Results