Background Information
---
Lymphocyte-activation protein 3 (LAG-3) belongs to the immunoglobulin superfamily and shares sequence homology, exon/intron organization and chromosomal localization to CD4. LAG-3 cDNA encodes a 498 amino acid transmembrane protein with 4 extracellular Ig-like domains. The expression of LAG-3 is undetectable in resting peripheral blood lymphocytes but it is induced in activated T and NK cells. Human MHC Class II molecules can bind to LAG-3 and are considered as receptors for LAG-3 on B cells and dendritic cells. LAG-3 is proven to be an inhibitory receptor on activated T cells. Crosslinking of LAG-3 on activated T cells with an anti-LAG-3 antibody inhibits T cell proliferation and cytokine secretion. Blocking or modulating LAG-3 can potentially enhance anti-tumor immune responses by preventing immune suppression.
Product Specifications
---
Catalog Number
C1010
Cell Line Name
CHO suspension cell pool expressing full-length human LAG-3 receptor
Gene Synonyms
LAG-3, human
Gene Sequence
Codon optimized from NP_002277.4 (Met1-Leu525)
Host Cell
Suspension CHO
Quantity
Two vials of frozen cells (10

7

cells/vial)
Stability
>10 passages
Freeze Media
Culture media with 10% DMSO
Storage
Liquid nitrogen immediately upon receipt
Culture Medium
50% CD-CHO (Gibco#10743-029), 50% Ex-Cell CHO 5 Media (Sigma#C0363), supplemented with 8mM L-Glutamine, 1xHT, 1x Penn-Strep and 20ug/ml puromycin.
Mycoplasma Test
Negative
Applications
Antibody binding assays, IHC/Western blot analysis, or use as cell immunogen
Product Datasheet:
Download PDF
Representative Data
---
Detection of human LAG-3 expression on human LAG-3 CHO Stable cells using a mouse monoclonal antibody specific for human LAG-3.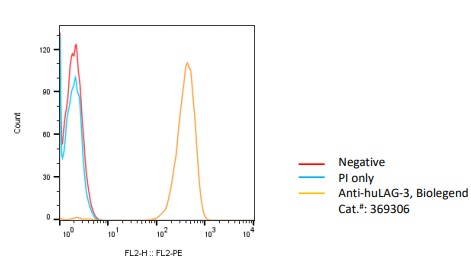 References
---
Triebel F.et al., (2010) "LAG-3, a novel lymphocyte activation gene closely related to CD4.". J Exp Med, 1990 May 1; 171(5):1393-405.
Baixeras E.et al., (2011) "Characterization of the lymphocyte activation gene 3-encoded protein. A new ligand for human leukocyte antigen class II antigens.". J Exp Med, 1992 Aug 1; 176(2):327-37.