Product Specifications
---
Catalog Number
C3006
Cell Line Name
Human PSMA-CHO-K1 Stable Cell Line
Accession Number
NP_004467.1
Host Cell
Adherent CHO-K1
Quantity
Two vials of frozen cells (2x10

6

per vial)
Culture Medium
DMEM with 10% FBS, 4 µg/ml puromycin
Freezing Medium
90% FBS and 10% DMSO
Storage
Liquid nitrogen upon receipt
Product Datasheet:
Download PDF
Representative Data
---
Detection of human PSMA expression on human PSMA-CHO-K1 stable cells using a monoclonal antibody specific for human PSMA (BioLegend, #342503)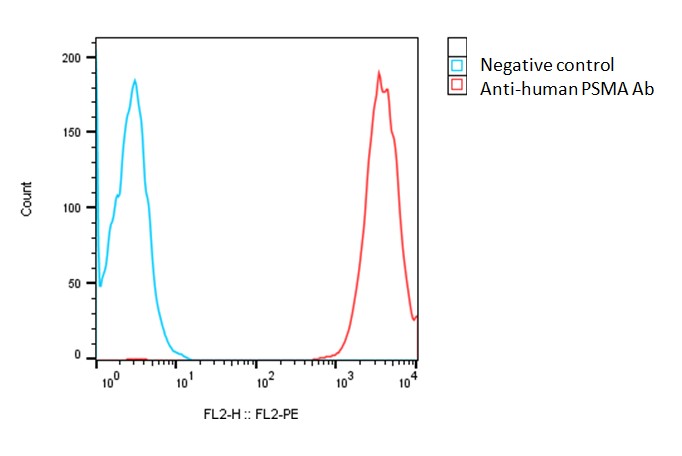 Background
---
Prostate-Specific Membrane Antigen (PSMA), also known as FOLH, GCP2, PSM, and NAALAD1, is a type II transmembrane glycoprotein that acts as a glutamate-preferring carboxypeptidase. It functions as a folate hydrolase by metabolizing folate compounds and is also responsible for the internalization and degradation of folate derivatives, including vitamin B9. Additionally, PSMA has been implicated in neuropeptide processing and angiogenesis. Human PSMA is highly expressed in the prostate, around a hundred times greater than in most other tissues. In prostate cancer cells, PSMA expression is highly elevated and its enzymatic activity is significantly upregulated. In some prostate cancers, PSMA is the second-most upregulated gene product, with an 8- to 12-fold increase over levels in noncancerous prostate cells. This overexpression, coupled with its high specificity to prostate tissues, makes it an attractive target for development of cancer biomarker and therapeutics.
References
Silver DA, Pellicer I, Fair WR, Heston WD, Cordon-Cardo C. Prostate-specific membrane antigen expression in normal and malignant human tissues. Clin Cancer Res. 3:81-85. 1997.
Liu H, Rajasekaran AK, Moy P, et al. Constitutive and antibody-induced internalization of prostate-specific membrane antigen. Cancer Res. 58:4055–4060.1998.
Bakht MK, Oh SW, Youn H, et al. PSMA-Targeted Theranostic Nanocarrier for Prostate Cancer. Theranostics. 9:3126-3138. 2019.
Jones W, Griffiths K, Barata PC, Paller CJ. PSMA Theranostics: Review of the Current Status of PSMA-Targeted Imaging and Radioligand Therapy. Cancers (Basel). 12:1367.2020.