Human T-cell immunoreceptor with Ig and ITIM domains (TIGIT) is a cell surface protein and plays a role as a crucial inhibitory immune checkpoint. TIGIT is a member of the PVR-like protein family in the immunoglobulin superfamily and is expressed on various immune cells, including CD4+ and CD8+ T cells, regulatory T cells, natural killer (NK) cells, and dendritic cells (DCs). TIGIT is expressed in various tissues, including lymphoid tissues, spleen, thymus, lung, and liver. In cancers, TIGIT expression has been observed in various solid tumors, including lung cancer, melanoma, ovarian cancer, and breast cancer. In these tumors, TIGIT expression has been associated with immune evasion and resistance to immune checkpoint blockade therapy. TIGIT binds to CD155 (PVR, Necl-5), CD112 (PVRL2, Nectin-2), and CD113, but with much higher affinity to CD155, which is expressed on dendritic cells (DCs), T cells, B cells, macrophages, endothelial cells, and tumor cells. The binding of TIGIT to its ligands results in the inhibition of T-cell activation, leading to immune suppression. Moreover, TIGIT also binds to CD226 (DNAM-1), an activating receptor that promotes T-cell activation. Due to its role in immune regulation and its expression in cancers, TIGIT has emerged as a promising therapeutic target for cancer immunotherapy.
Product Specifications
---
Catalog Number
C3020
Cell Line Name
Human TIGIT-CHO-K1 Stable Cell Line
Gene Sequence
NM_173799.4
Host Cell
CHO-K1 (Adherent cells)
Quantity
Two vials of frozen cells (~2x10

6

per vial)
Culture Medium
DMEM with 10% FBS and 4 µg/ml puromycin
Freezing Medium
90% FBS and 10% DMSO
Storage
Liquid nitrogen upon receipt
Product Datasheet:
Download PDF


Representative Data
---
Detection of human TIGIT expression on human TIGIT-CHO-K1 stable cells using a monoclonal antibody specific for human TIGIT (Cat #A1014)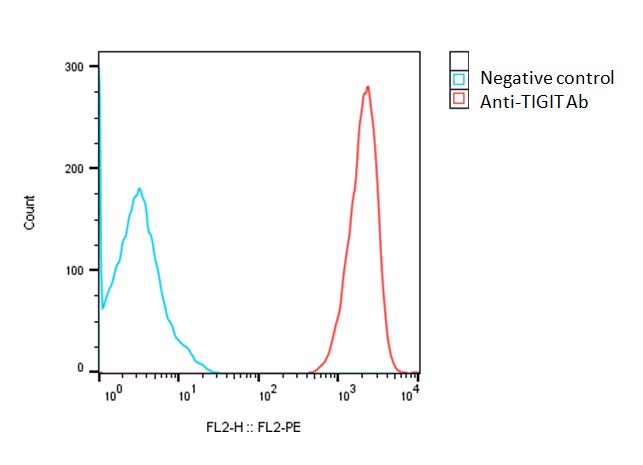 References
---
Carpenter G. Annual Review of Biochemistry. 56: 881–914, 1987.
Yu X, Harden K, Gonzalez LC, et al. Nat Immunol.10:48-57. 2009.
Johnston RJ, Comps-Agrar L, Hackney J, et al. Cancer Cell.26:923-937. 2014.
Harjunpää H, Guillerey C. Clin Exp Immunol. 200:108-119. 2020.
Ge Z, Peppelenbosch MP, Sprengers D, Kwekkeboom J. Front Immunol.12:699895. 2021.